Top 10 Best Conveyance Lawyers in Kuala Lumpur

Looking for the top conveyance lawyers in Kuala Lumpur? Look no further! This article will provide you with a list of the best lawyers in the city, so you can be sure to get the best legal representation possible.
---
#1 – Ramesh & Loo
Introduction:
Goik, Ramesh & Loo is one of the leading law firm in Kuala Lumpur, Malaysia that takes pride in being different. They are recognized for providing first-class legal advice across a range of practice areas. They pride themselves on client-centric legal solutions that are both diverse and effective. They offer their clients a full-service law firm experience to cater to all of their legal needs and they champion their clients' interests, locally and globally.
Resourceful. Responsive. Relationship-centered. Each member of their experienced team is prepared to work smart and work together for you. You can rest easy knowing you have a steadfast lawyer working on your behalf.
Type of Services:
CRIMINAL DEFENCE
BANKING & FINANCE
PROPERTY & CONVEYANCING
FAMILY LAW
COMPETITION LAW & ANTITRUST
and many more
Location: Suite N-3-1, Block N, Plaza Damas, 60 Jalan Sri Hartamas 1, Sri Hartamas, 50480 Kuala Lumpur Malaysia
Contact: +6012-5600058 (mobile)
Website: Website Link Here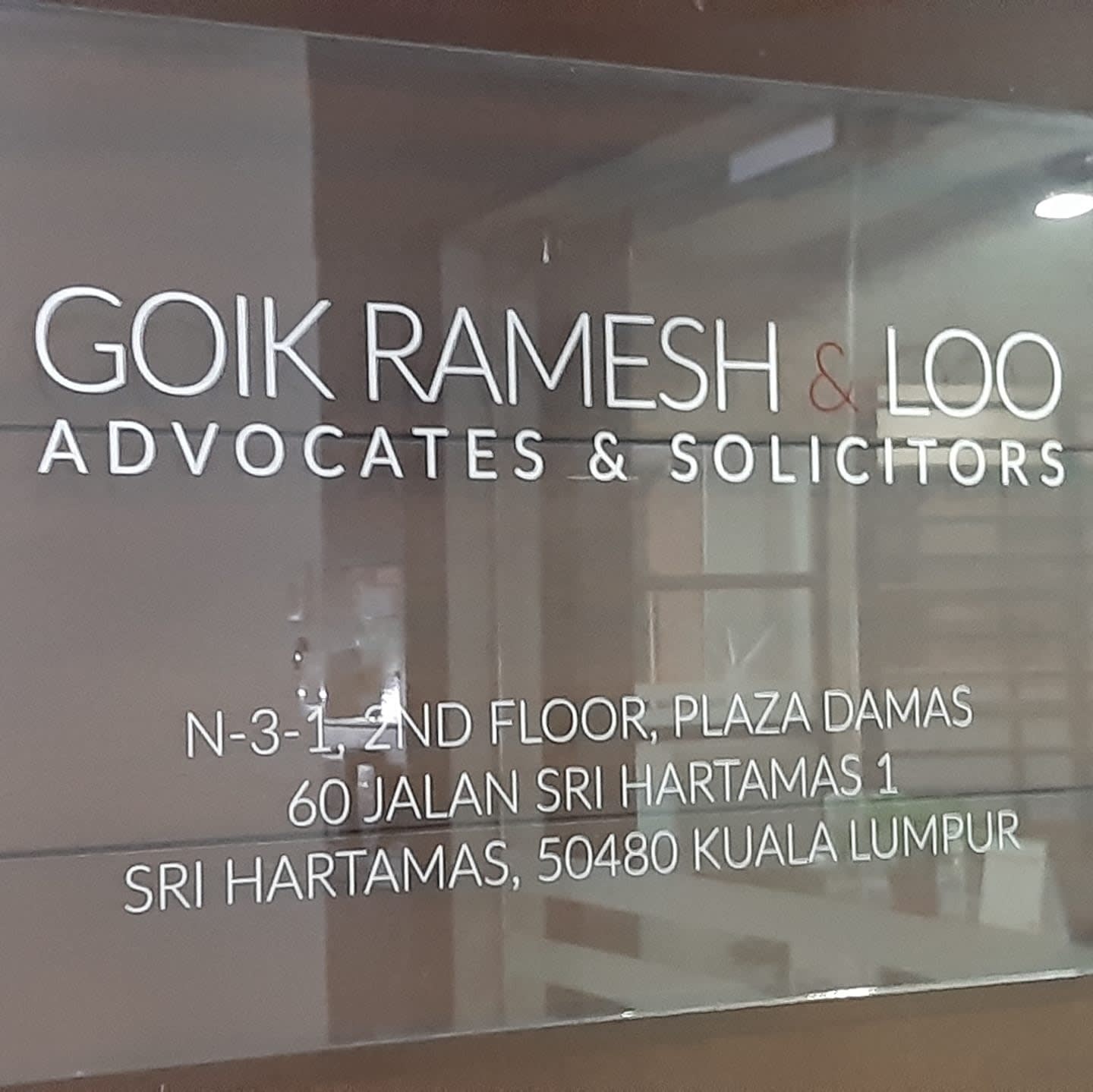 ---
#2 – Marcus Ng Law Firm
Introduction:
They represent clients from all walks of life: among them are the laymen on the street and professionals from different industry sectors as well as small and medium enterprises or companies.
They are professional law firm comprises of lawyers with competency and integrity.
There is a fixed quota of cases that they would take up every year so they can assure your file or matter is assigned with their full and comprehensive attention.
Type of Services:
Succession
Criminal Matters
Matrimonial Matters
Commercial Litigation
and many more
Location: Suite 19-10, Level 19 Menara K1 (Commerce One), Lorong 3/137C, Off, Jln Klang Lama, 58200 Kuala Lumpur
Contact: +6010 926 8681
Website: Website Link Here
---
---
#3 – T. S. Ong & Ng
Introduction:
T.S Ong & Associates ("the Firm") was set up in September 2000 by Dato' Ong Theng Soon ("Dato' Ong") as a boutique law firm specializing in corporate law, banking and conveyancing.
In June 2020, Bryan Ng Yih Miin joined the firm as a partner. The firm was then re-named as T.S Ong & Ng.
They are committed to providing high-quality, efficient, personalized legal services.
Driven by a spirit of innovation and dedication to client service, they work closely as a team with their clients and their other consultants to accomplish often creative and innovative solutions to the issues their clients face. They aim to help their clients successfully meet and anticipate the new challenges they face in today's evolving legal and business environment.
Type of Services:
Sale and Purchase & Bank Loan Documentation
Commercial and Corporate Litigation
Location: 8.2 Solaris Mont Kiara, Jalan Solaris 5, Off Jalan Duta Kiara, 50480 Kuala Lumpur
Contact: +603-62030208
Website: Website Link Here
---
---
#4 – Kuek, Ong & Associates
Introduction:
They have more than 18 years of experience in the legal profession. They handle matters such as civil litigation, commercial disputes, labor disputes (Industrial Court), debt recovery, probate & letter of administration, will, divorce, children custody, maintenance/alimony, adoption, distribution of matrimonial assets, drafting commercial agreement, drafting an employment contract, drafting sale and purchase agreement, process loan documentations, legal consultation, legal advisory, miscellaneous legal works.
Type of Services:
Conveyancing & Loan

Sale and Purchase Agreement
Transfer of Property
Discharge of Charge
Deed of Receipt and Reassignment
Transmission of Property
State Government Approval in relation to Bumiputra status Property and Malay Reserved Land
Location: No. 86-1, Jalan Mahogani 1, Bandar Botanic Klang, 41200 Klang, Selangor Darul Ehsan
Contact: +603-3324 1868
Website: Website Link Here
---
#5 – JK LIM
Introduction:
The Firm has advised and represented many foreign multi-national corporations, key industry players in Malaysia and prominent individuals. The Firm recently made history for handling the first cyberlaw defamation case at the Kuala Lumpur High Court in which their counsel successfully obtained an interim injunction to restrain the defendants from further publishing defamatory statements on Instagram. The Firm also has extensive experience in handling cyberlaw cases relating to online harassment and defamation on social media platforms such as Facebook, WhatsApp and Instagram.
Type of Services:
Land Acquisition Hearings (pursuant to the Land Acquisition Act 1960)
Land (tenancy, proprietary & caveatable interests)
Trusts, Wills, Probate & Administration of Estate
and many more
Location: E-2-08 Neo Damansara, Jalan PJU 8/1, Damansara Perdana, 47820 Petaling Jaya, Selangor, Malaysia
Contact: +603-7728 7100
Website: Website Link Here
---
#6 – Donny Wong & Co.
Introduction:
They assist in a variety of corporate and commercial matters. Their range encompasses start-up legal work, mergers and acquisitions matters involving preference share subscription agreements, shareholders' agreements,s and sale and purchase of shares including due diligence to business collaboration agreements, license agreements, master service agreements, and so on. They also serve as a process agent for clients internationally in relation to any contracts or commercial agreements, ISDA agreements, financing, security agreement, or transaction documentation.
Type of Services:
Trust & Estate

Will writing
Trust Deed
Power of Attorney
Grant of Probate
Letter of Administration
Small Estate Distribution Order
Resealing of Probate or Letter of Administration in Malaysia
Location: B3-6-12 Solaris Dutamas (Publika), No. 1 Jalan Dutamas 1, 50480 Kuala Lumpur, Malaysia
Contact: +603 6205 3620 / +603 2856 0252
Website: Website Link Here
---
_

Read Also:

Top 10 Best Conveyance Law Firms in Singapore

_
---
#7 – CY NG & BARRY
Introduction:
CY NG & BARRY was established on 1st January 2013 and is currently experiencing exponential growth in terms of recognition and firm size. Strategically located in an upscale neighborhood shopping mall in Kuala Lumpur known as "Publika", their clients are able to reach them conveniently.
CYNB's daily mission is to help clients succeed. The Firm is dedicated to working with its clients to provide practical solutions in order to help them achieve their business goals and overcome legal challenges anytime and anywhere. They are also committed to providing outstanding legal services locally and internationally.
A defining feature of the Firm is that they value its relationships with its clients and maintain contact even after their cases have been concluded. They are professional, responsive, and sensitive to their client's needs. CYNB makes it a point to guide and be alongside their clients throughout the duration of their legal matters.
Type of Services:
Conveyancing

Conveyancing is a legal process of transferring a property title from a seller to a buyer. It involves a written instrument whereby the seller and buyer would state the details of the property, purchase price, and obligations of both party. Having legal representation will ensure that both parties' interest is upheld and smoothen the transaction.

Landlord – Tenant

Landlord-Tenant is a contractual relationship between a landlord and a tenant. It governs over the relationship, duties and rights between them. A tenancy agreement is applicable for a "short-term tenancy" of 3 years and below. Meanwhile, a "long-term tenancy" of more than 3 years would require a lease agreement.
Location:
Messrs. CY NG & BARRY
Advocates & Solicitors
B3-3-5, Solaris Dutamas
No. 1, Jalan Dutamas 1
50480 Kuala Lumpur
Contact: +603-6205 3392
Website: Website Link Here
---
#8 – James Liew & Kong, Advocates & Solicitors
Introduction:
JAMES LIEW & KONG is a legal firm based in the most sophisticated and dynamic city of Malaysia, Kuala Lumpur. Their firm provides a wide spectrum of legal services covering various aspects of the law. Their principal focus would be in Conveyancing, Civil Litigation, Corporate, and Dispute Resolution matters across all major sectors.
Type of Services:
Real Estate & Property

Sale and Purchase Agreement, Transfer of Property, Tenancy & Lease Agreement, Perfection of Transfer, Transmission of Property, Trust Deed, Power of Attorney and etc.

and many more
Location: No. 87-1, Jalan Metro Perdana Barat 1, Taman Usahawan Kepong, 52100 Wilayah Persekutuan Kuala Lumpur, Malaysia
Contact: +603-6734 9407
Website: Website Link Here
---
#9 – Koo Cheong & Sony Shee, Advocates & Solicitors
Introduction:
KOO CHEONG & SONY SHEE is a boutique law firm strategically located in the heart of Klang Valley bordering both Kuala Lumpur and Petaling Jaya, Selangor. The firm provides legal services in the area of conveyancing for both residential and commercial properties (ie: Sale and Purchase, loan documentation) and they are on the panel of several banking institutions. The firm also deals with litigation and dispute resolution including but not limited to: General Debt Recovery, Landlord-Tenant Disputes, Matrimonial Proceedings (divorce, maintenance, division of property & adoption), and General Civil Litigation.
Type of Services:
General Debt Recovery
Landlord-Tenant Disputes
and many more
Location: B-2-15 , PLAZA ARKADIA NO.3 JALAN INTISARI PERDANA, Desa Parkcity, 52200 Kuala Lumpur, Malaysia
Contact: +603-2771 6440
Website: Website Link Here
---
#10 – Zain & Co
Introduction:
Established in 1970, Zain & Co. is a leading full-service law firm in Kuala Lumpur, Malaysia. Zain & Company is a national law firm. The Firm's areas of practice include corporate & commercial, intellectual property, litigation, real estate, and banking.
Type of Services:
Corporate & Commercial
Intellectual property
Real Estate
and many more
Location: Menara Etiqa, 23, Jalan Melaka, Kuala Lumpur City Centre, 50100 Kuala Lumpur, Federal Territory of Kuala Lumpur, Malaysia
Contact: +603-2698 6255
Website: Website Link Here
---
Have a Place to Recommend?
We need your help! Do you know any other noteworthy beauty clinics or salons that deserves to be added to this list? If so, do write to us via our email at admin@tropika.club. Tropika Club will do a review of your recommendations and update the list accordingly.
---
Meanwhile, check out Tropika Club's Ecosystem of Websites
Tropika Club Magazine – Tropika Club Magazine crafts articles on all things Singapore, but with a greater emphasis on local businesses based on our #SupportLocalSG initiative. We check out and feature local businesses of all categories, ranging from your neighbourhood hawker stalls to the aesthetic clinics in town. We also cover local content ranging from beauty, lifestyle, places, eats and what's on in SIngapore. Our Top 10 rankings include local food and service establishments based in different regions in Singapore.
Tropika Club Deals – Search for the best voucher and coupon deals. Tropika Club Deals is ideal for customers who want to discover the best deals without having to commit to a specific appointment date and time. Choose from guaranteed discounted deals in the categories of hairstyling, hair removal, facial & aesthetics, body slimming, brows & lashes, nails & makeup, massage & spa or fitness & wellness. Customers can also buy vouchers as gifts or to use for the future.