Hawker Review: Lai Hiang Pork Rib Prawn Mee
It was a rainy Monday morning when I arrived early at Pek Kio Market and Food Centre for my lunch, having to run some errands nearby. Unfortunately, as it was Monday, most of the stall were closed. I look around to see what was available to eat and realised that about half the stalls were actually closed. Nevertheless, I discovered a long queue of people waiting for prawn noodles at Lai Hiang at Lai Hiang Pork Rib Prawn Mee and decided to do what most Singaporeans would do – join the queue! This article is brought to you by the Tropika Club team.
QUICK CONTENT
---
With 20 Persons Queuing for Prawn Mee
Now, the queue was not a short one. The queue was a consistent one, and even after queuing and getting my meal, I did a queue-count and noted that at its longest, there were twenty people queuing for their prawn noodles! There must be something in the prawn noodles to warrant so many people willing to queue for their lunch. I was glad that I ordered a $5 prawn mee (dry, with white flat noodles and yellow round noodles mixed, and with chilli added, of course).
---
Definitely Worth a Visit
I was wondering why Lai Hiang did not make it to the Tropika Club list of ranking for Best Prawn Noodles in Singapore. The chilli sauce used by Lai Hiang for the noodles was so delicious that I actually would probably be able to eat another portion of the $5 noodles that I ordered. It was definitely spicy, but yet tasty as well, and it goes to show that the sauce used for mixing the noodles is a key determinant in how tasty a bowl of (dry) noodles score. A small bowl of prawn soup or broth was given as a default, and the soup tasted great, with enough umami and prawn taste to the point that it was sweet but yet not too sweet.
Prawns: The prawns were deshelled and were not halved. Each prawn was tender and juicy and complemented the noodles well.
Broth: The prawn broth had a strong flavour of prawns and was also sweet and slightly herbal.
Noodles: The noodles were very tasty and delicious, thanks to the chilli sauce added to the noodles.
All in all, I would highly recommended paying a visit to Lai Hiang Prawn Noodles if you are a fan of good food. Especially on a Monday when most of the other well-rated stall are all closed.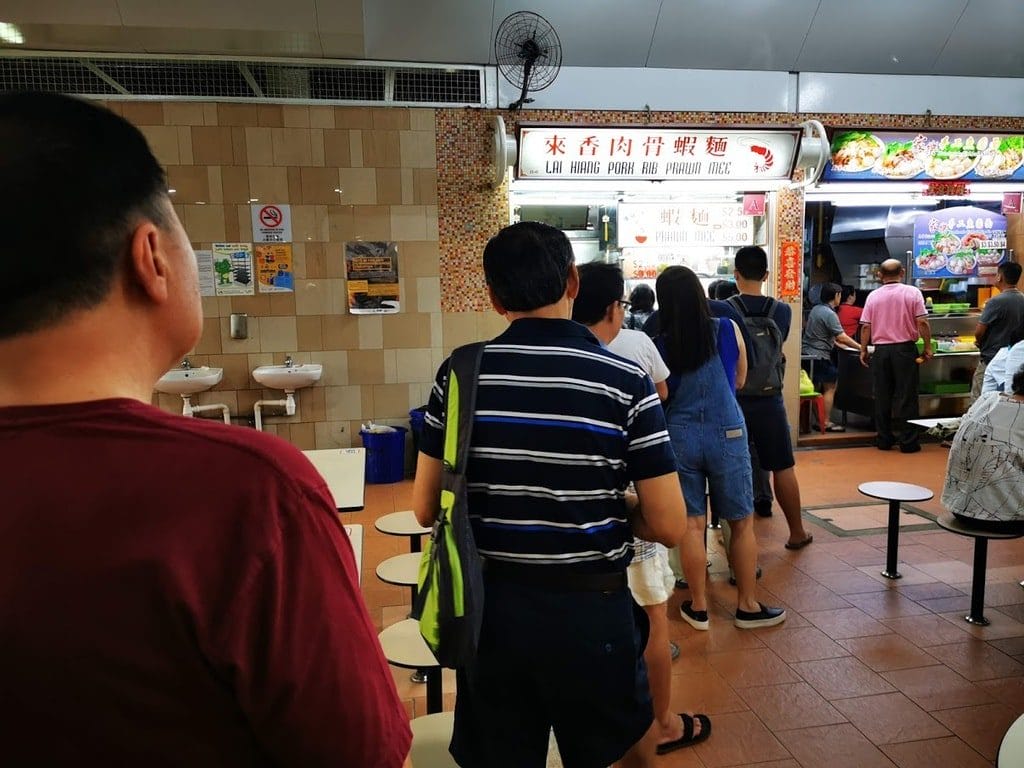 Lai Hiang Pork Rib Prawn Mee
Location: Pek Kio Market #01-41​
Hours:
Monday 6am–2pm
Tuesday Closed
Wednesday 6am–2pm
Thursday 6am–2pm
Friday Closed
Saturday 6am–2pm
Sunday 6am–2pm
Have a Place to Recommend?
Your contribution is valuable to us! Are there any outstanding businesses that you believe should be added to our list? If so, please send your recommendations to us at admin@tropika.club. Tropika Club will review your suggestions and update the list accordingly. Thank you for your help in making our list of businesses as comprehensive and accurate as possible.
---
Meanwhile, Check out Tropika Club's Ecosystem of Websites
Tropika Club Magazine – Tropika Club Magazine is a Singapore-based publication that features articles on a wide range of topics with a focus on local businesses and content for the region. The magazine emphasizes supporting local businesses through its #SupportLocal initiative, which includes coverage of everything from neighborhood hawker stalls to aesthetic clinics in town. In addition to highlighting local businesses, Tropika Club Magazine also covers a variety of local content, including beauty, lifestyle, places, eats, and what's on in Singapore and the Asia Pacific region.
Tropika Club Deals – Tropika Club Deals is a leading online deals and voucher shopping site in Singapore, offering amazing discounts on beauty, wellness, and fitness products and services. It's the perfect platform for customers who want to discover the best deals without having to commit to a specific appointment date and time. These deals are available at major beauty stores, facial salons, hair salons, and other brands in Singapore, with no minimum spend required. Choose from guaranteed discounted deals in the categories of hairstyling, hair removal, facial & aesthetics, body slimming, brows & lashes, nails & makeup, massage & spa or fitness & wellness. Tropika Club Deals is also ideal for customers who want to buy vouchers as gifts or to use for the future. So whether you're looking to save money on your next haircut or want to treat yourself to a relaxing massage, Tropika Club Deals has got you covered with the best voucher and coupon deals in Singapore!