10 Must Try Restaurants in Kuala Lumpur
If you're looking for an amazing culinary experience while in Kuala Lumpur, then be sure to check out these 10 must-try restaurants! From fine dining to street food, there's something for everyone's taste and budget. So whether you're a local or visitor, be sure to add these restaurants to your list!
---
#1 – Dewakan
Introduction:A combination of the Malay words for "god" and "food", Dewakan is a modern appreciation of the bounty that this land is blessed with. The restaurant's dining experience is designed to create meaningful connections with the people and culture represented in every ingredient. The team at Dewakan continually explores new ways to do this and you are invited to partake in their journey.
Menu Items:
DEWAKAN TASTING MENU RM696 nett per pax
NON-ALCOHOLIC PAIRING RM222 nett per pax
ALCOHOLIC PAIRING RM300 nett per pax
Location: Platinum Park, Level 48, Skyviews, Naza Tower @, Persiaran KLCC, Kuala Lumpur City Centre, 50088 Kuala Lumpur, Federal Territory of Kuala Lumpur, MalaysIa
Contact: No provide
Website: Website Link Here
---
#2 – Old China Café
Introduction:
The premises were formerly the guild hall of the Selangor & Federal Territory Laundry Association. The guild was set up at the turn of the century and moved to this part of Chinatown in the 1920s.
The two large mirrors that face each other are traditional feng shui mirrors that the Chinese believe would perpetually reflect good luck.
Many of the architectural details of the building have remained unchanged, even the doors to the kitchen still have wooden latches. This type of pre-war shophouses may not exist much longer.
Several units in the neighborhood (Jalan Balai Polis, Jalan Panggong, and Jalan Petaling) have either been demolished or renovated beyond recognition, in order to keep up with modern times.
Old China Café tries to maintain a semblance of the Chinese community's old social life is fading into history. The patina of age contributes to the ambiance.
Menu Items:
Itik Tim Rm 9.90
Nasi Lemak RM 10.90
Kari Kapitan ckicken Rm 15.90
Babi Pong Teh Rm 15.90
Location: 11, Jalan Balai Polis, 50000 Kuala Lumpur.
Contact:+603-2072 5915
Website: Website Link Here
---
---
#3 -Heun Kee Claypot Chicken Rice
Introduction: Heun Kee Claypot Chicken Rice has been established since 1985 by Madam Heun May Lan. She has been in the food business since the early 80 s by selling Nyonya kuih, nasi lemak, and fried noodles. Started with just a small hawker stall at PJ Old Towns wet market, and she slowly build her way up and now she is an established restaurant operator near Pudus wet market
Menu Items:
Claypot Chicken Rice
Soup of the day
Fried Chicken Wing
Home Specially Seafood
Location:
59, Ground Floor, Jalan Yew, Pudu , Kuala Lumpur, Malaysia
Contact:+60 3-9200 1603
Website: Website Link Here
---
_

Read Also:

Top 10 Best Popiah in Singapore

_ _ 
---
#4 – Ah Weng Koh Hainan Tea
Introduction:
The special taste of Ah Weng Koh originated Hainan Tea has gained its fame over the years. For decades, consumers persistently patron to our stall as the ritual of their life for our scrumptious taste that soothes.
Following the changing of era and time, Ah Weng Koh Hainan Tea is no longer just a good cup of beverage, but a taste of wonderful memories to many of our loyal patrons. Today, it has also become an attraction to tourists around the world who travel near and far just to have a taste of this unique local flavor
Menu Items:
Hainan Tea Classic + Milk Tea RM45.00
Hainan Tea Classic Double
Premium Mixed 2022 + Hainan Tea & Wellness Pack ) RM108.00
Location: G85, ICC Pudu, Jalan 1/77C, Pudu, 55100 Kuala Lumpur
Contact: No provide
Website: Website Link Here
---
#5 -Sisters Crispy Popiah
Introduction:
The crispy popiah is Sisters Crispy Popiah's signature product. As the name suggests, the popiah looks like any other popiah at first glance, but each bite will land your teeth in its crispy, crunchy fillings.
Its crispiness lasts for hours and customers can still enjoy the crunch if they choose to take away our Crispy Popiah, which is something that cannot be done with the traditional popiah.
Menu Items:
Crispy Popiah
Egg Roll Popiah
Chicken Teriyaki Popiah
Tuna Salad Popiah
Location:Saji Food Court, Sogo, City Centre, 50100 Kuala Lumpur, Wilayah Persekutuan Kuala Lumpur, Malaysia
Contact:+60 3-9082 3819
Website: Website Link Here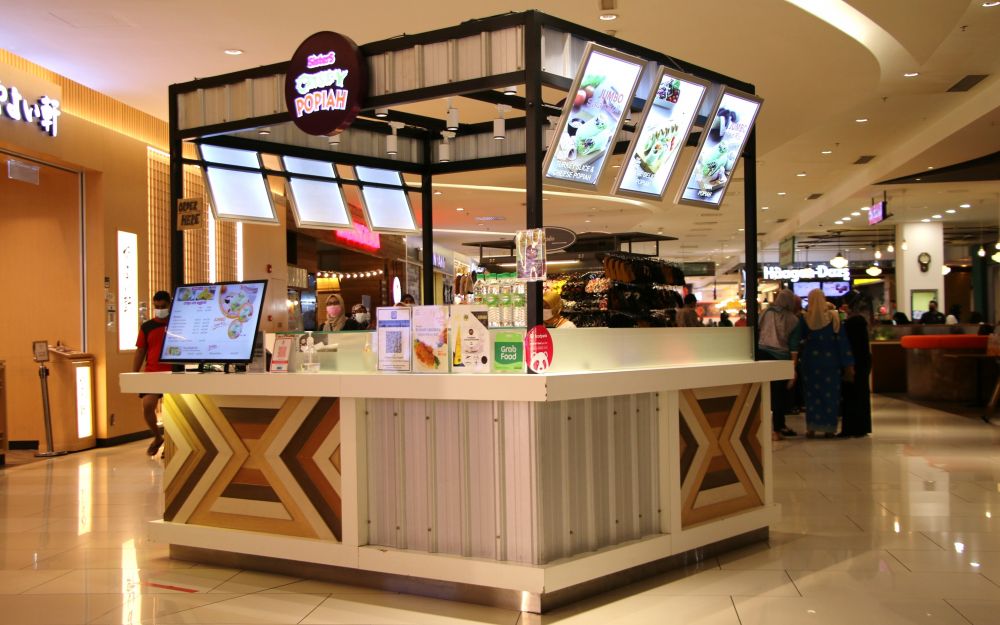 ---
---
#6 -Luckin Kopi
Introduction: LUCKIN KOPI Petaling Steet Chinatown Kula Lumpur . The smell of freshly brewed Kopi wafting through the air and the sight of the Peranakan inspired table set against the traditional heritage brick wall armid the retro ambiencde confirm that you have teped into KL Latest Kopitiam joint LUCKIN KOPI at , Jalan Panggong, Petaling Steet the Chinatown inKuala Lumpur .
Menu Items:
Funky Nasi Lemak (RM18.90)
Salted Egg Chicken Rice (RM12.90)
Rojak (RM8.90)
5 States Coffee Cold Brew (RM19.90)
Location: 14, Jalan Panggong, City Centre, 50000 Kuala Lumpur, Wilayah Persekutuan, Malaysia
Contact: +60 3-2856 2811
Website: Website Link Here
---
#7 -Mun Wah Hokkien Mee Restaurant
Introduction: Mun Wah Hokkien Mee Serving the Best & Special Hokkien Mee Since 1960s.
Menu Items:
Hokkien Mee
Stir Fry Sliced Ginger Lala
Fried to Golden Brown For The Perfect Crisp
Yut Kwong Hor
Location: 155, Jalan Maharajalela, Kampung Atap, Kuala Lumpur, Malaysia
Contact: +60 19-326 7878
Website: Website Link Here
---
#8 -Hong Ngek
Introduction: A Hokkien restaurant in a traditional Chinese shophouse that is a piece of living history.
Menu Items:
Signature Hokkien Mee
Signature Fried Glass Noddle
Fried Mee Suah
Singapore Mee Hoon
Location: 50, Jalan Tun H.S Lee , Kuala Lumpur, Malaysia
Contact: +60 3-2078 7852
Website: Website Link Here
---
#9 – Sek Yuen Restaurant
Introduction: Cantonese restaurant
Menu Items:
Fried Wan Ton Noodles with Pork and Mushroom Slices
Yong Zhao Fried Rice
Signature Eight Treasure Pork Trotter
Pan-Fry Shrimp in Butter Paste
Location: 313-1 Jalan Pudu, Kuala Lumpur, Malaysia
Contact: +60 3-9222 9457
Website: Website Link Here
---
#10 – Limapulo: Baba Can Cook
Introduction: They strive to provide the greatest authenticity possible to allow their customers to enjoy the most original taste of Nyonya dishes at a reasonable price.
Menu Items:
Nyonya Laksa (Price RM15.80)
Nasi Tomato (Price RM15.80)
Nasi Lemak (Price RM15.80)
Ayam Pongteh Rice Meal (Price RM15.80)
Location: 50, Jalan Doraisamy Chow Kit ,50300 Kuala Lumpur Wilayah Persekutuan, Kuala LumpurMalaysia
Contact: +603-2698 3268
Website: Website Link Here
---
Have a Place to Recommend?
We need your help! Do you know any other noteworthy beauty clinics or salons that deserves to be added to this list? If so, do write to us via our email at admin@tropika.club. Tropika Club will do a review of your recommendations and update the list accordingly.
---
Meanwhile, check out Tropika Club's Ecosystem of Websites
Tropika Club Magazine – Tropika Club Magazine crafts articles on all things Singapore, but with a greater emphasis on local businesses based on our #SupportLocalSG initiative. We check out and feature local businesses of all categories, ranging from your neighbourhood hawker stalls to the aesthetic clinics in town. We also cover local content ranging from beauty, lifestyle, places, eats and what's on in SIngapore. Our Top 10 rankings include local food and service establishments based in different regions in Singapore.
Tropika Club Deals – Search for the best voucher and coupon deals. Tropika Club Deals is ideal for customers who want to discover the best deals without having to commit to a specific appointment date and time. Choose from guaranteed discounted deals in the categories of hairstyling, hair removal, facial & aesthetics, body slimming, brows & lashes, nails & makeup, massage & spa or fitness & wellness. Customers can also buy vouchers as gifts or to use for the future.