Top 10 Best Opticians in Kuala Lumpur Malaysia
Kuala Lumpur, Malaysia is the perfect city for those who value the importance of good vision. Whether you are in need of an eye test or a new pair of glasses, finding a reliable optician can be daunting. Luckily, this article will make your search easier by introducing you to the top 10 best opticians in Kuala Lumpur. With so many great opticians to choose from, you are sure to find one that meets your needs and budget.
---
#1 – Iconic Lab
Introduction:
The Iconic Lab team specializes in helping people from all over the world and in various fields Wear to impress, allowing them to immediately enhance their personal image, bring more career opportunities, and have an advantage over their competitors.
Iconic stands for uniqueness, which comes from the ultimate persistence in pursuing beauty and quality. Based on the needs of customers, face shape, hair color, skin color, industry, personality, etc., they consider every detail, give customers professional analysis and explanation, and tailor-made the most suitable glasses.
Since its establishment in 2014, Iconic Lab has been interviewed by many well-known media, including: "Sin Chew Daily", "Oriental Daily", "Nanyang Siang Pau", "City CEO", "Focus", "Entreleadership: Tales of Inspiration & Success" and so on, are highly affirmed.
About
Opening Hours:
Tuesday 10 am–10 pm
Wednesday 10 am–10 pm
Thursday 10 am–10 pm
Friday 10 am–10 pm
Saturday 10 am–10 pm
Sunday 10 am–10 pm
Monday 10 am–10 pm
Location:
T-051, Third Floor, Midvalley City, Lingkaran Syed Putra, 59200 Kuala Lumpur, Malaysia
Contact: +60 16-583 6211
Website: Website Link Here
---
#2 – Eyefont KLCC
Introduction: Focus Point is officially recognized by the Malaysia Book of Records as the largest optical retail chain store in Malaysia and also the first and only optical retail chain store to be listed in Bursa Malaysia. With more than 180 outlets nationwide and more than 230 eye care professionals ready to serve you. Customers have a wide range of fashionable eyewear to choose from at the concept stores such as Focus Point, Focus Point Signature, Focus Point Concept Store, Focus Point Outlet, Focus Point Lifestyle, Whoosh, Opulence, Eyefont, Solariz and i-Focus.
About
Location: Unit 1, 3, 5 & 7, Jalan PJU 1/37, Dataran Prima, 47301 Petaling Jaya, Selangor.
Opening Hours:
Price of Admission: RM 20 ~ RM 677.60
Contact: (+603) 7880 5520
Website: Website Link Here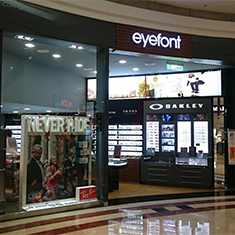 ---
---
#3 – Optical 88
Introduction:
OPTICAL 88 cares about your visual and hearing needs, they have launched a series of professional audio-visual care solutions. In addition to ophthalmology services, they have updated hearing aid fitting services and AI artificial intelligence health risk assessment services to let you know the health warning signs early, provide you and your family with comprehensive and considerate services, and protect audiovisual health!
About
Basic Eye Exam
Atropine for Myopia Control in Children
Cataract Examination and Treatment
Lacrimal duct, eye plastic examination and treatment
Glaucoma Examination and Treatment
Retinopathy, macular degeneration examination and treatment
Various Laser Therapy Ophthalmology Specialty Services
Location:
Lot G43, ground floor, Alamanda Putrajaya Shopping Centre, Jalan Alamanda, Precint 1, 62000 Putrajaya, Kuala Lumpur
Lot 2.46.02, level 2, Pavilion Kuala Lumpur, Lot 168, Jalan Bukit Bintang, 55100 Kuala Lumpur
Opening Hours:
Contact: (+60) 3 8068 6898
Website: Website Link Here
---
---
#4 – Malaya Optical Optometrist
Introduction:
Malaya Optical, established in 1957 is a reliable and trusted professional optometrist centre in Malaysia. At Malaya Optical, they have 10 practising optometrists to give you the assurance of quality vision care using the latest vision care technologies. They at Malaya Optical are the preferred choice of many, having received many referrals from eye specialists, orthoptist, pediatricians and other eye care professionals.
About
Progressive / Multifocal Fitting
Opening Hours:
Mon – Fri 10.30am to 8.00pm
Saturday until 7.00 pm
Sunday until 5.00 pm
Location: 71, SS21/37, Damansara Utama, 47400, Petaling Jaya, Selangor
Contact: +6012 622 1101
Website: Website Link Here
---
#5 – Ban UK Optometrist
Introduction:
The owner of the store have graduated as Optometrist from Cardiff University, United Kingdom. He founded this store in Year 2015 with over 14 years of optical background, experienced the breakthrough in the industry with open display and affordable pricing back in the time when eyewear was perceived expensive accessories. Their concept is to accommodate professional lifestyle by utilizing latest technologies to produce high quality optics and lenses. All eye-test tested and done by certified high trained optometrists.
About
Zeiss Progressive Design Duravision Blueguard with Japanese Handmade frame.
Opening Hours:
Mon – Sun: 10.00am – 9.00pm.
Location:
LG-45, Lower Ground Floor, Berjaya Times Square
1, Jalan Imbi
55100 Kuala Lumpur
Malaysia
Contact: +603-2728 3961, 011-5352 5707
Website: Website Link Here
---
#6 – Paris Optical Bangsar
Introduction:
Paris Optical Sdn Bhd was founded in May 1993.
With close to 30 years of experience. They will ensure that you always get the best results.
They are primary eye care practitioners that have enabled many consumers to have perfect vision.
Their team consists of certified optometrists to perform eye examinations and consultations to clients of various age, starting from 3 years old and beyond.
They have invested in the latest equipment to give you a better diagnose of your eye condition.
About
EYE REFRACTION
CONTACT LENSES FITTING
EYE HEALTH SCREENING
EYE CARE CONSULTATIONS
Opening Hours:
Mon – Sun 10.30am – 9.00pm
Location: 53 Jalan Telawi 3, Bangsar Baru 59100 Kuala Lumpur
Contact: +603-22828782, Email: parisoptical@gmail.com
Website: Website Link Here
---
Read Also:

Top 10 Best Opticians in Singapore

_ 
---
#7 – OKIO EYEWEAR
Introduction:
At OKIO Eyewear, they pride about their premium yet personal; stylish yet affordable alternatives for your best vision and clarity.
About
RM 50 for bluelight lens
RM 100 for photogrey
RM 280 for BlueLight + Photogrey
Frame price started from rm 50, rm98, rm138 and rm198
Opening Hours:
Mon: 10:00 am – 9:00 pm
Tue: 10:00 am – 9:00 pm
Wed: 10:00 am – 9:00 pm
Thu: 10:00 am – 9:00 pm
Fri: 10:00 am – 9:00 pm
Sat: 10:00 am – 9:00 pm
Sun: 10:00 am – 9:00 pm
Location:
Sungei Wang Plaza, LG-144, Lower Ground Floor
50250 Kuala Lumpur
Federal Territory of Kuala Lumpur
Malaysia
Contact: +60 10 522 9908
Website: Website Link Here
---
#8 – New Image Eyewear Boutique
Introduction:
Established since 2002 , New Image Eyewear Boutique has been a primary vision care specialist for many city folks of KL business district.
Under the passion and dedication of its founder and principal consultant Mr Alex Wong, New Image Eyewear takes care of every single optical needs under one roof ranging from fashionable eyewear , latest trendy sunglasses to contact lenses and all types of ophthalmic lenses for visual corrections.
Most of their customers are extremely satisfied with the guaranteed glasses ready in 10 minutes policy. They invested heavily in their ophthalmic lens inventories as well as the state of the art edging machines to enables 90% of their glasses to be ready in 10 minutes.
They have also won the KPDNKK highest recognition for optical retail two years (back to back) for best fair price and best service category. Personalize and professional service is what set them apart from the many optical chain stores blossoming nowadays beside being one of the handful of multifocal specialist in KL.
About
Optical Lenses
Branded Contact Lenses
Frames
Sunglasses
Opening Hours:
Tuesday 10 am–10 pm
Wednesday 10 am–10 pm
Thursday 10 am–10 pm
Friday 10 am–10 pm
Saturday 10 am–10 pm
Sunday 10 am–10 pm
Monday 10 am–10 pm
Location: Avenue K, L2-14, Level 2, 156, Jalan Ampang, Kampung Baru, 50450 Kuala Lumpur.
Contact: +60 12 217 6157, Email: info@newimageeyewear.com
Website: Website Link Here
---
#9 – Lee Optical House
Introduction:
LEE OPTICAL HOUSE business area is Contact Lenses Fashion Apparel & Services Spectacle FramesSun Glasses.
About
Opening Hours:
Tuesday 10 am–7 pm
Wednesday 10 am–6 pm
Thursday 10 am–7 pm
Friday 10 am–7 pm
Saturday 10 am–7 pm
Sunday 10 am–5 pm
Monday 10 am–7 pm
Location: Ground Floor, Komplek Campbell, Jln Dang Wangi, 50100 Kuala Lumpur., Kuala Lumpur, Malaysia
Contact: +60 12-307 1189, Email: leeoptic@gmail.com
Website: Website Link Here
---
#10 – Insight Optical
Introduction:
Established in 1984, Optical 88, a member of Stelux Group of Companies, owns the largest professional optical retail network in Hong Kong. With over 200 shops, their branch of network spans Southeast Asia, including Macau, Guangzhou, Singapore, Thailand and Malaysia.
Being the dealer in a variety of international brands, Insight Optical offers a broad and diverse choice of product types and styles. Thanks to their modern and chic design, as well as reliable quality, their products have proven to be extremely popular in all the markets they operate in.
About
Symbolizes luxury, class and elegance eyewear. … Visit to INSIGHT Optical for Gucci collections
Opening Hours:
Location: Lot 3.101.00, Level 3, Pavilion ELITE Kuala Lumpur, 168, Bukit Bintang St, Bukit Bintang, 55100 Kuala Lumpur, Federal Territory of Kuala Lumpur, Malaysia
Contact: +603 2141 5132
Website: Website Link Here
---
Have a Place to Recommend?
We need your help! Do you know any other noteworthy places that deserve to be added to this list? If so, do write to us via our email at admin@tropika.club. Tropika Club will do a review of your recommendations and update the list accordingly.
---
Meanwhile, check out Tropika Club's Ecosystem of Websites
Tropika Club Magazine – Tropika Club Magazine crafts articles on all things Singapore, but with a greater emphasis on local businesses based on our #SupportLocalSG initiative. We check out and feature local businesses of all categories, ranging from your neighbourhood hawker stalls to the aesthetic clinics in town. We also cover local content ranging from beauty, lifestyle, places, eats and what's on in SIngapore. Our Top 10 rankings include local food and service establishments based in different regions in Singapore.
Tropika Club Deals – Search for the best voucher and coupon deals. Tropika Club Deals is ideal for customers who want to discover the best deals without having to commit to a specific appointment date and time. Choose from guaranteed discounted deals in the categories of hairstyling, hair removal, facial & aesthetics, body slimming, brows & lashes, nails & makeup, massage & spa or fitness & wellness. Customers can also buy vouchers as gifts or to use for the future.