Top 10 Facial Services In South-Western Singapore
Have your face pampered in one of the top picks facial salon in the South-West of Singapore.
Looking for the perfect treat to revitalise your skin and complexion? As the expert says it, good skin starts with clean skin. Today, The Tropika Club Team has rounded up the Top 10 Facial Services in the South-Western region of Singapore (this includes Tiong Bahru, Harbourfront, Holland Village and Buona Vista areas) that will help you to find that perfect place. Read on!
---
---
#1 EX Beauty (Tiong Bahru)
Introduction: EX beauty is dedicated to professional beauty services using the latest technology and methodology in the beauty industry. Their beauty salon are staff with veteran from the beauty industry with more than 10 years of working experience in various high profile beauty brand. All of their staff are equipped with recognized professional qualification in the industry. They are committed to upgrade themselves consistently and professionally in their specialized field to bring the best services to the customer.
Their vision is to provide customer with an unique beauty experience, and work with customer to fulfil their beauty needs. They aim to bring customer the best treatment in the industry by keeping with current trends and constantly educating themselves with the best practices. They also promise to maintain the highest standard of customer service, exceed customer's expectations, and bring out the best in all of customers.
The Treatment: They offer a variety of treatments suited for face. Customer may seek help with their specialist for any face concerns. For those who are looking at whitening, hydrating, firming, cleansing, pore refining, anti-ageing as well as calming facial treatment, they can pay a visit to this salon. The treatment includes:
Super intensive pulse light treatment
Ice plant calming facial
Apple stem cell
13 vitamins complex clinical collagen facial
Repagen age recovery facial
Intensive Hyaluronic acid facial
Check them out at:
Location: Blk 11A Boon Tiong Road, #01-01, Singapore 161011
Hotline: +65 6265 7188 / +65 6260 7188
---
#2 Lush Aesthetics (Harbourfront Centre)
Introduction: LUSH Aesthetics is established in year 2011- It is where Beauty meets Science. They work closely with aesthetic manufacturers and suppliers from around the world to bring customers the latest technology in the aesthetic industry. LUSH Aesthetics delivers award-winning results with innovative treatments ensuring 100% customer satisfaction with quality assurance. They believe that customer satisfaction is key for success. Only high quality aesthetic equipment and products are used to ensure that customers receive the best treatments possible. All equipment are FDA-approved & CE Certified to ensure proven results without compromising on safety.

LUSH Aesthetics outlets are also strategically selected for convenience, just a stone throw away from MRT stations, without compromising on privacy. The transitional designs of the outlets give customers the ultimate pampering experience to relax, refresh and recharge during treatments. Everyone is made differently and that's why at LUSH Aesthetics, all treatments are meticulously customized and crafted to each individual by using the latest equipment & technologies.
The Treatment:
Acne Scar treatment includes:
Fractional RF
Fractional Microneedle RF Laser Technology
Uneven skin tone treatment includes:
BB White + Foundation
Vitamin C Skin Booster
Neoglow 3-IN-1 Super Facial
Neogen Nitro Plasma
Check them out at:
Location: 1 Maritime Square, #02-65, Harbourfront Centre, Singapore 099253
Hotline: +65 6256 4698 / +65 9018 8424
---
#3 Wellaholic (Tanjong Pagar)
Introduction: Wellaholic's vision is to help their customers look their best with the best rates in Singapore. They offer a range of aesthetic services, including technology facials, microneedling, permanent hair removal, hair regrowth, fat freeze, RF body sculpting and teeth whitening. Wellaholic has six outlets, with Tai Seng as HQ, Jurong East, Orchard, Clarke Quay, Tg Pagar and Lavender. They believe in offering quality services to their customers, with excellent customer service and definitely no hard-selling.
The Treatment: Wellaholic offers WellaFacial, which incorporates the best-of-breed technology facial treatments at an affordable monthly pricing. With weekly treatments of 6-step Elight Facial Collagen Boost, together with weekly-alternating Microneedling and Radio Frequency V-Lift treatments, you will see a drastic improvement in the reduction of wrinkles, fine lines and achieve a clearer complexion. Wellaholic's Microneedling is a safe, minimally invasive, and effective aesthetic treatment for several different dermatologic conditions including acne and other scars. Given its expedient post-treatment recovery, limited side effect profile, and significant clinical results, microneedling is a valuable alternative to more invasive procedures such as laser skin resurfacing and deep chemical peeling.
Check them out at:
Location: 210A Telok Ayer Street (Level 2) Singapore 068643
Hotline: +65 8181 1814​
---
#4 Indulge Skin and Body Lab (The Star Vista)
Introduction: Started as a small beauty salon and a distributor of health products, Indulge Skin and Body Lab has been around since 2003. After gaining a loyal customer base, Indulge has expanded today into a chain of 3 outlets, with 2 in The Star Vista and 1 in AMK Hub. Indulge Skin & Body Lab firmly believes in getting to the root of customers' common beauty complaints and ailments by treating the underlying negative health conditions that cause them, rather than merely addressing the symptoms on the surface. To achieve this, they incorporate a combination of both Western science and Traditional Chinese Medicine (TCM) principles, techniques and products to achieve maximum efficacy and bring the best results and satisfaction to all valued customers.
The Treatment: Their facial services includes:
B-soul (BX plus anti wrinkles)
Celmonze (Matrix Cell for face / eye)
Intensive Care ( RF lifting for face and eye)
MTM Meridian Tissue Manipulation treatment that help to reduce the appearance of pigmentation and ageing.
Check them out at:
Location: 1 Vista Exchange Green, #B1-19/20 and #B1-27, The Star Vista, Singapore 138617
Hotline: +65 6694 2072
Website: https://indulgeskinlab.com.sg/
---
#5 Classique Beautti & Slimming
Introduction: Classique Beautti & Slimming is a premium and well trusted beauty salon in Singapore. The sought after beauty salon offers advance technical beauty methods, reliable and trustworthy products, providing high quality of beauty treatments to their customers from top to toe. They use a combination of traditional beauty treatments by using a hand, skincare, and high technology scientific machine to their facial and body treatment.

At Classic Beauty & Slimming, you will embark on a new journey of self-reflection and healing to learn and embrace a new way of life- a life not only of beauty but total wellness. The staffs are equipped with vast experiences in the industry, and they promise to deliver a relaxing and effective treatment to their customers.. They also believe that anything is possible with the right products, expertise, and dedication, hence with a beauty dedication and professional massage therapists, they offer quality service to maximize customers' expectations.
The Treatment: The list of treatment includes-
Clarity Face Treat
Marine Collagen Treats
Oxy Eye Therapy
Spa Indulgence – Facial + Massage
Cleansing Facial
Detox Face Spa
Check them out at:
Location: 18 Jalan Membina, #02-04, HDB Tiong Bahru Court , Singapore 164018
Hotline: +65 6271 9180
---
---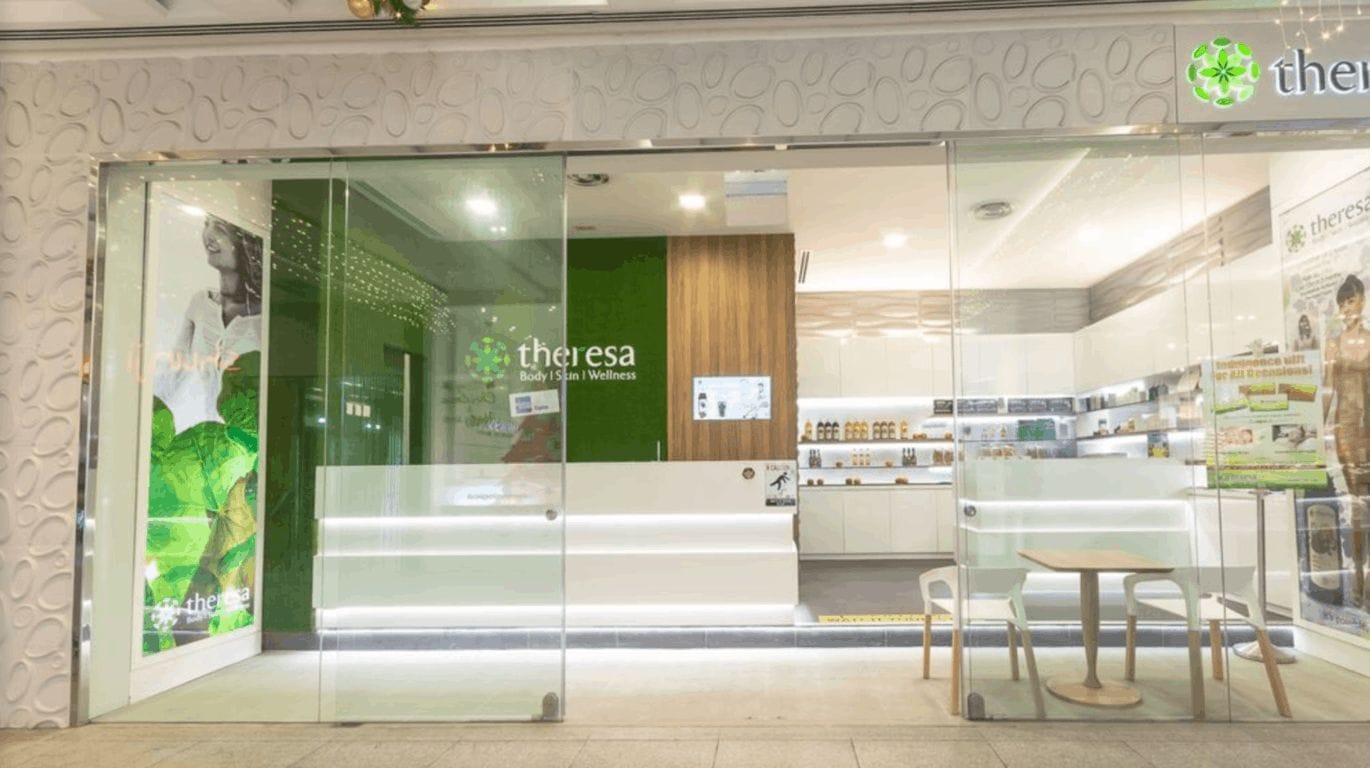 #6 Theresa Body Skin Wellness (Clementi)
Introduction: Established in 1987, Theresa Beauty first started out in Ang Mo Kio and expanded to other outlets island wide. It started out with humble beginnings and through team of experienced aestheticians, they have established the brand as a household name with the support of their loyal customers and team members. Their mission is to help employees and customers to get more out of life, achieve optimal health, fulfilled life at work through supportive partnerships and genuine service from the heart.

They see every customer as a seed of potential beauty. Seeds come together to form the petals of a blooming flower, exemplifying. Theresa's mission to help customers develop a fabulous shape by unveiling the potential beauty within them.
The Treatment: SygmaLift HIFU Facelift: Used in conjunction with the cold laser, it can treat wrinkle, aging and fine lines on skin with painless while Skin Booster treatment targets at age reversal treatment to promote radiance and youthful skin.
Other treatment includes:
Thavma Therapy Facial
Acne Chemical Peel (Eliminate Active Acne)
BB Glow (Semi Permanent Makeup)
HydraPeel Facial (Deep Pore Cleansing)
Silk Protein Whitening Peel
Check them out at:
Location: Blk 443, Clementi Ave 3, #02-65/67, Singapore 120443
Hotline: +65 6776 8663
Website: https://theresa.com.sg/
#7 Allure Beauty Saloon
Introduction: Established in April 2002, Allure Beauty Saloon is a complete one stop shop for all your beauty. Everyone is born beautiful but maintaining the natural beauty that each is born with it requires a lot of hard work and determination. At Allure Beauty, they listen to their customers needs and tailor made a customized beauty regime that specifically address your beauty concerns and works effectively within your time and budget. They believe in using their expertise to deliver the best service to the customers. At Allure Beauty, all staff are experienced, committed and passionate in enhancing and bringing out the natural beauty in customers.
The Treatment: Allure Beauty provides different types of facial treatments such as-
Hydro Exfoliating Facial Treatment
Red Rice Bubble Enzyme with Face Bojin Treatment
Classic Red Rice Bubble Enzyme Treatment
Bernard Cassiere Diamond Treatment
100% Collagen Treatment
Rose Facial Treatment
Check them out at:
Location: 302 Tiong Bahru Rd, #03-108, Tiong Bahru Plaza, Singapore 168732
Hotline: +65 6250 3382
#8 Beaute Brow
Introduction: Angel, Creative Director, has more than 20 years of experience. She has completed more than a thousand embroidery over the years. Her unmatched creativity & experience put her in a league of her own, drawing clients from all over the world. She is a trusted beautician and friend to all. Beaute Brow's mission is to provide good customer service, effective treatment outcome and safety is their number one priority.
The Treatment: Beaute Brow's signature treatment includes a SpaLite 6-in-1 that addresses these concerns-
Reduce enlarged pores
Lighten pigmentation
Eliminate fine wrinkles
Whiten the skin
Control Acne Outbreak
Firm up the skin / Lifting
They also offer Acu-Pa Face Lift which help to enhance lifting and firming, and even helps to dispel toxins accumulated in body. One immediate benefit beside face lifting is the reduction of eye bags. The treatment outcome is distinctly visible after a single session plus it also helps to relief stress & chronic tension.
Check them out at:
#9 CECILIA Westberry Beauty Spa
Introduction: With decades of experience in the beauty industry, Mrs Cecilia Westberry has run her beauty salon out of a cozy two-storey space at Holland Close, an unassuming upscale location in Singapore, for the past six years. Her storefront was recently expanded to include haircare services – making Cecilia Westberry an all-in-one location for you to experience a truly regal pamper session from top to toe. Her product is, needless to say, cream of the crop – she swears by top-notch skincare brands Biologique Recherche and Barbor, of which are main staples in her beauty treatments.
The Treatment: Deep Cleansing Clear Skin Facial: This is a simple deep cleansing facial (60min) using the micodermabrasion machine, dead skin cells are gently removed and exfoliated with a special scrub tailored for your skin before extractions are done. Without removing the excess dead skin cells on the skin, they believe that whatever they have done is not 100% beneficial.
Micro-needle roller treatment: The Micro-Needle Skin Roller has been shown to be more effective than ablative treatments, such as laser resurfacing, dermabrasion, and chemical peel.
Check them out at:
#10 IS Beauty
Introduction: The moment you step foot into 'IS Beauty', patrons are taken in under the care of skilled and professional therapists and aestheticians to address your skin concerns.
The Treatment: They offer a variety of facial treatments that include:Diamond Peel Facial, Omega Light Treatment and Classic Facial. Each treatment takes about 1 hour and 15mins.
Check them out at:
Location: Blk 36 Beo Crescent, #01-43, Singapore 160036
Hotline: +65 6276 0116
---
Have a Place to Recommend?
Your contribution is valuable to us! Are there any outstanding businesses that you believe should be added to our list? If so, please send your recommendations to us at admin@tropika.club. Tropika Club will review your suggestions and update the list accordingly. Thank you for your help in making our list of businesses as comprehensive and accurate as possible.
---
Meanwhile, Check out Tropika Club's Ecosystem of Websites
Tropika Club Magazine – Tropika Club Magazine is a Singapore-based publication that features articles on a wide range of topics with a focus on local businesses and content for the region. The magazine emphasizes supporting local businesses through its #SupportLocal initiative, which includes coverage of everything from neighborhood hawker stalls to aesthetic clinics in town. In addition to highlighting local businesses, Tropika Club Magazine also covers a variety of local content, including beauty, lifestyle, places, eats, and what's on in Singapore and the Asia Pacific region.
Tropika Club Deals – Tropika Club Deals is a leading online deals and voucher shopping site in Singapore, offering amazing discounts on beauty, wellness, and fitness products and services. It's the perfect platform for customers who want to discover the best deals without having to commit to a specific appointment date and time. These deals are available at major beauty stores, facial salons, hair salons, and other brands in Singapore, with no minimum spend required. Choose from guaranteed discounted deals in the categories of hairstyling, hair removal, facial & aesthetics, body slimming, brows & lashes, nails & makeup, massage & spa or fitness & wellness. Tropika Club Deals is also ideal for customers who want to buy vouchers as gifts or to use for the future. So whether you're looking to save money on your next haircut or want to treat yourself to a relaxing massage, Tropika Club Deals has got you covered with the best voucher and coupon deals in Singapore!