Top 10 Best Hair Removal Salons In Western Singapore
Have you ever had a bad experience in shaving or waxing your unwanted hair at home? We have the right solution for you. The Tropika Club Team has rounded up the Top 10 Hair Removal salons in the Western region of Singapore (This includes Jurong Gateway, Jurong West Central, Lakeside & Bukit Timah areas) that will help you to solve your problem. Whether you are male or female , they will help you get rid of unwanted hair easily. Read on to find out more.
---
---
#1 Wellaholic (Jurong East)
Introduction: Wellaholic is an established beauty chain in Singapore, with eight locations conveniently located close to major MRT stations. With its award-winning hair removal treatment, Wellaholic uses the patent Super Hair Removal (SHR) technology which permanently targets and destroys the hair follicles using low, intense energy pulses. They are famous for their Unlimited SHR plans, which allows the customers treatments on unlimited body parts at an affordable monthly pricing. For customers that require shaving and post-treatment whitening or hydration, Wellaholic also offers WellaSmooth, an all-inclusive hair removal regime that includes unlimited shaving, hair removal treatments and post-treatment therapy. Besides hair removal treatments, Wellaholic also offer technology facials, body slimming treatments such as WellaFreeze Fat Freeze, hair regrowth treatments and teeth whitening treatments.
Details: Wellaholic publishes their price list online, though you can conveniently book via Tropika Club and get your member reward points. After booking for a treatment, you will start off with a free consultation with the therapist where she will check with you on your hair removal objectives. The treatment itself will take between 15 minutes for Underarms hair removal to as long as 120 minutes for a full body hair removal including Brazilian. If you require more time, you can always book another treatment for another day without the need to pay anything additional.
Check them out at:
Seven outlets across Singapore. Details here.
Hotline: +65 81811814
Live Chat (24 hour customer chat line)
---
#2 The Fresh Lab
Introduction: TheFreshLab is a modern beauty studio specialising in a beauty treatment from Korea and Europe – Super Hair Removal. The studio is designed to welcome clients into a relaxing and clean space where the procedure is performed.They help their clients boost confidence and reduce the amount of time they spend on daily self-maintenance. The benefit of these beauty treatments is a gift that gives back every day, and every time you look in the mirror.
The Treatment: TheFreshLab are offering the popular Super Hair Removal treatment. It is a treatment which can penetrate deeper of the skin and deliver faster result. Moreover, they also offering a transparent and affordable pricing to all their consumers.
Check them out at:
---
#3 Skin Lab 360
Introduction: Skin Lab 360 is where you can expect an East-meets-West beauty experience of modern beauty techniques alongside their IPL hair removal treatments. It is a place where you can emerge a smooth and hair-free from a bushy surroundings with their IPL hair removal treatment.
The Treatment: Their IPL hair removal is a semi-permanent hair removal method that results in longer lasting hairlessness and finer regrowth. They will recommend that you shave the areas to be treated at least a day before treatment for greater comfort. Moreover, their consultants will take the time to discuss whether your goals and expectations for the treatment are realistic.
Check them out at:
---
#4 The Beauty Bar – Bukit Timah
Introduction: The Beauty Bar was set up with the goal of unleashing the inner charm inside every individual. Confidence is very important, especially in a fast growing society like Singapore. The Beauty Bar offers a one-of-a-kind experience which immediately makes a person feel confident, comfortable and welcome. Their professional and dedicated team is proficient in techniques of SHR Hair Removal.
The Treatment: .The Beauty Bar provides effective yet comfortable SHR Hair Removal to their clients. With their signature cutting-edge technology, painless SHR treatment is now possible. Their formulated cooling gel increases comfort of the entire treatment procedures.
Check them out at:
Location: 68 Jalan Jurong Kechil, Suites at Bukit Timah #01-18, Singapore
Hotline: +65 8800 0209
---
#5 E.Beaute Salon
Introduction: A salon that provides the best quality of waxing service which can ease with their service with regards to the quality of work by their experts, products used and value for money.
The Treatment: Who doesn't want to be hairless in all the right places? Ladies and gentlemen, it's time to whip the unwanted body hair away and embrace the hair-free life. Waxing service offered in E Beaute Salon is the best choice for you to remove your body hair. Waxing is a semi-permanent way to remove hair by pulling it out from the roots. The body is coated in hot wax, which when dry is pulled off in one swift motion, pulling the hair out at the roots.
Check them out at:
Location: 1 Jalan Anak Bukit #01-22 Bukit Timah Plaza, Singapore 588996
Hotline: +65 6469 8992
---
#6 Pisces Wellness
Introduction: Born out of a genuine passion to deliver trustworthy wellness treatments, PISCES Wellness uses a holistic approach to enable their patrons to achieve their ideal figure. Designed for the modern day city dweller, their suite of wellness treatments aim to relieve stress and relax the mind. With hair removal services, their calming environment is your sanctuary from the everyday hustle. Their team of well-trained therapists is dedicated to make their customers happy and improve clients' health and wellness through the power of technologies and the magical power of touch. Because, real beauty comes from within.
The Treatment: Their IPL hair removal is a semi-permanent hair removal method that results in longer lasting hairlessness and finer regrowth. They will recommend that you shave the areas to be treated at least a day before treatment for greater comfort. Moreover, their consultants will take the time to discuss whether your goals and expectations for the treatment are realistic.
Check them out at:
---
---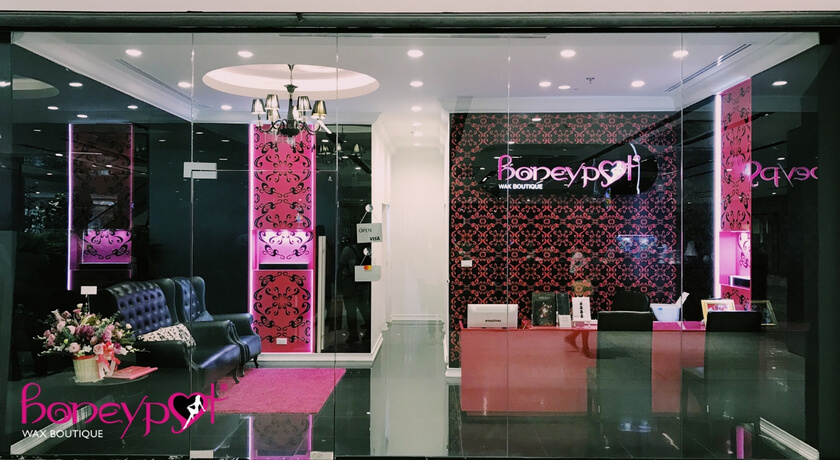 #7 Wax Loft
Introduction: Get your hair removal needs satisfied in the comfort of your living room anytime! Wax loft is a home-based waxing business. Their waxing services are not only meticulous and hygienic but affordable too!
The Treatment: Choose from gel based hard wax or strip wax. 1st time clients get $5 off! Flexible appointment slots available.
Check them out at:
---
---
#8 Sherwood Aesthetics
Introduction: "Confidence comes from within but beautiful skin speaks volumes"—that philosophy guides Sherwood Aesthetics. With a focus on beauty and anti-ageing treatments, they're an aesthetics clinic that uses the best in science and technology to help you with your skin and body needs.
Located conveniently at Bukit Timah Plaza, their clinic is stylish and welcoming. Plus, you can trust that their doctor & therapists are professional and passionate about the work that they do. They're ever-ready to cater to your beauty needs.
The Treatment: Intense Pulse Light (IPL) hair removal uses involves broad-spectrum light to target your hair follicles. But, it doesn't damage surrounding skin and blood vessels. Once treated, the hair follicles fall out painlessly. Several treatments are required to provide a 80-90% reduction in hair density and clearance of excess hair growth.
Check them out at:
---
#10 Smuvve Aesthetics
Introduction: They provide all their clients with the latest SHR Technology and Diode Laser. They want to help clients of all skin types to embark on their hair removal journey at the most reasonable rate in Singapore. Smuvve believes that every woman deserves to be beautiful, so they relentlessly strive to provide top-notch service with the best rates.
The Treatment: Diode Laser Hair Removal is one of the most advanced hair removal technology in Singapore. It emits near-infrared laser light that is absorbed by the melanin located in the hair follicle. The Laser is pulsed for only a fraction of a second and this duration is long enough to damage the follicle and at the same time not damaging the surrounding tissues.
Check them out at:
Location: Vision Exchange, 2 Venture Drive #02-23, Singapore 608526
Hotline: +65 9798 8878
Website: https://www.smuvve.com/
---
Have a Place to Recommend?
Your contribution is valuable to us! Are there any outstanding businesses that you believe should be added to our list? If so, please send your recommendations to us at admin@tropika.club. Tropika Club will review your suggestions and update the list accordingly. Thank you for your help in making our list of businesses as comprehensive and accurate as possible.
---
Meanwhile, Check out Tropika Club's Ecosystem of Websites
Tropika Club Magazine – Tropika Club Magazine is a Singapore-based publication that features articles on a wide range of topics with a focus on local businesses and content for the region. The magazine emphasizes supporting local businesses through its #SupportLocal initiative, which includes coverage of everything from neighborhood hawker stalls to aesthetic clinics in town. In addition to highlighting local businesses, Tropika Club Magazine also covers a variety of local content, including beauty, lifestyle, places, eats, and what's on in Singapore and the Asia Pacific region.
Tropika Club Deals – Tropika Club Deals is a leading online deals and voucher shopping site in Singapore, offering amazing discounts on beauty, wellness, and fitness products and services. It's the perfect platform for customers who want to discover the best deals without having to commit to a specific appointment date and time. These deals are available at major beauty stores, facial salons, hair salons, and other brands in Singapore, with no minimum spend required. Choose from guaranteed discounted deals in the categories of hairstyling, hair removal, facial & aesthetics, body slimming, brows & lashes, nails & makeup, massage & spa or fitness & wellness. Tropika Club Deals is also ideal for customers who want to buy vouchers as gifts or to use for the future. So whether you're looking to save money on your next haircut or want to treat yourself to a relaxing massage, Tropika Club Deals has got you covered with the best voucher and coupon deals in Singapore!