Top 10 Best Scrubs & Exfoliators in Singapore
Your skin is constantly shedding skin cells and skin layers from time to time. Smoother skin layers regrow to the skin surface when this happens. However, this system will getting slow when we age. Therefore, exfoliation or scrubbing of skin is needed to remove those dulling and dead skin cells. Exfoliation physically or chemically even helps to speed up your skin's process and helps it to behave younger. The Tropika Club team has rounded up Top 10 Best Scrub & Exfoliator in Singapore. Check them out!
---
1. Fresh Sugar Face Polish
Description: Sugar Face Polish with nourishing brown sugar and real strawberry seeds is an innovative formula for all skin types that exfoliates and hydrates the skin, instantly revealing a softer, smoother, more radiant complexion.
How to Use:
Gently massage on cleansed, moist skin, avoiding the eye area.
Leave on for 5-10 minutes and rise with warm water. Can be used 3-4 times a week.
Pricing: $38 for 30g & $95 for 125g
Where to Find: Sephora
---
2. Farmacy New Day Gentle Exfoliating Grains
Description: Harnessing the powers of Rice Bran Powder, Cranberry Seeds and White Willow Bark, the fine grains transform into a foaming and exfoliating cream when activated with just a few drops of water; they buff away dirt and impurities, whilst minimising excess oil and clearing the skin, without stripping or drying. Marshmallow and Green Tea work in tandem to soothe and protect skin, as Echinacea GreenEnvy™ (the brand's patented and exclusive plant) promotes a smooth, even tone and texture. Suitable for all skin types, the grains can also be used on dry areas, such as the elbows and knees. Perfect for refreshing and cleansing skin on-the-go.
How to Use:
Pour a small amount of the grains (about the size of a quarter) into your palm and add a few drops of water.
Mix until a smooth, foaming paste forms, then gently massage onto skin using sweeping circular motions.
Rinse with tepid water and pat dry.
Pricing: $44 for 100g
Where to Find: Sephora
---
---
3. Frank Body Original Face Scrub
Description: A face exfoliator that detoxifies pores, fight breakouts and fades scars.
How to Use: Wash your face with lukewarm water and apply a small amount of Creamy Face Scrub. Gently rub the face and neck in circular motions, paying more attention to key areas that need more love like the nose, T-zone and chin. Rinse off and pat dry.
Pricing: $32 for 125ml
Where to Find: Sephora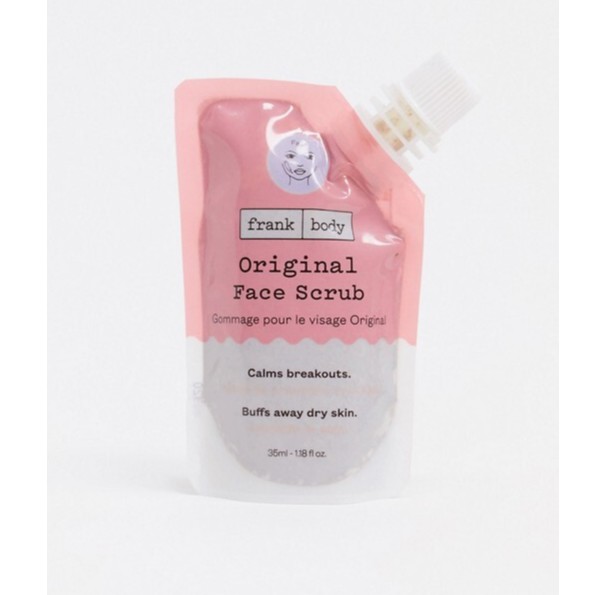 ---
4. Kate Somerville Exfolikate Intensive Exfoliating Treatment
Description: A dual-action exfoliator that smooths and polishes to reveal a glowing, radiant complexion in as little as one use.
How to Use: Use once or twice a week, morning or evening.Apply a thin, even layer to a clean, wet face, massaging in a circular motion for 30 seconds. Leave on for up to two minutes.Rinse and gently pat dry.
Pricing: $129 for 60ml
Where to Find: Sephora
---
5. Dermalogica Daily Exfoliant
Description: This unique Rice-based enzyme powder with a botanical brightening complex microfoliates dulling debris and instantly leaves skin noticeably smoother and brighter.
How to Use: Can be used daily.
Dispense about a half-teaspoon of Daily Microfoliant® into very wet hands and create a creamy paste by rubbing hands together.
Apply to face in circular motions, avoiding the eye area.
Massage gently for one minute, then rinse thoroughly.
Follow with Multi-Active Toner or UltraCalming Mist and prescribed Dermalogica Moisturizer.
Pricing: $103 for 75g
Where to Find: Dermalogica
---
---
6. Pixi Glow Mud Cleanser
Description: Reveal a glowing, healthier-looking skin tone with Glow Mud Cleanser by Pixi. The gritty mud formulation cleans deeply and detoxifies the pores, while hyaluronic acid, aloe vera, and avocado oil help plump and nourish. The result is a complexion that looks and feels smooth and purified.
How to Use:
Use morning and night.
Apply a coin-sized amount to damp skin.
Massage gently for 30 seconds, avoiding the eye area.
Rinse clean and pat dry.
Pricing: $30 for 135ml
Where to Find: Sephora
---
7. Ren Rosa Centifolia Gentle Exfoliating Cleanser
Description: A non abrasive 2 in 1. It works in two phases: firstly it cleanses the skin with exfoliating beads made from Jojoba Wax. The wax microbeads will gently lift and exfoliate dead skin cells and other pollutants. Secondly, the wax melts to indicate that the exfoliation phase is finished. The melted Jojoba Wax then deeply hydrates to firm and plump up the skin. – Removes excess dead skin to leave the skin feeling smooth and invigorated. – Cools and freshens the skin to revive and restore a healthy looking complexion. – Gentle facial scrub for all skin types especially for Sensitive and Reactive skin. – Does not cause irritation due to the gentle microbeads of Jojoba Wax.
How to Use: Apply to damp face and gently massage with circular movements while avoiding the eye area. Rinse off with warm water.
Pricing: $53 for 100ml
Where to Find: Escentials
---
---
8. Arcona Cranberry Gommage
Description: Jojoba beads and volcanic minerals cleanse and stimulate circulation while cranberry and raspberry enzymes gently exfoliate and unclog pores. Rich in antioxidants and anti-aging properties, this award-winning formula also helps protect skin against free radical damage.
How to Use:
Use 2-4 times a week.
Mix with water to desired consistency.
Apply one teaspoon to damp face, neck and décolleté in light upward and outward circles, avoiding eye area.
Rinse well.
Pricing: $68 for 100ml
Where to Find: Sephora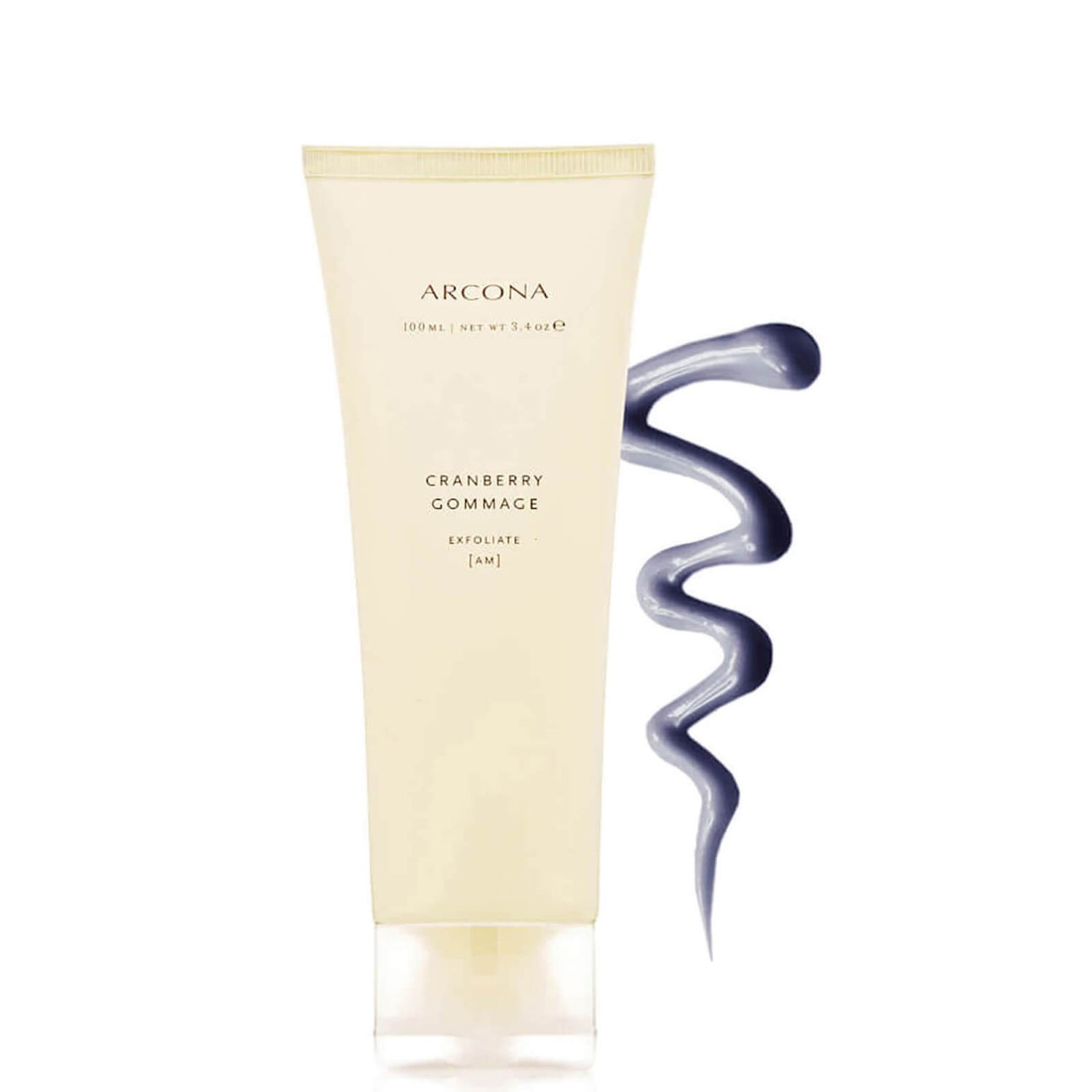 ---
9. Shiseido Waso Soft+Cushy Polisher
Description: A skin-refining exfoliator that gently polishes and removes impurities with biodegradable, plant-based cellulose granules to give skin a beautiful, smooth look and feel. The environmentally friendly formula has three different types of scrubbing agents in a whipped, tofu-like texture that makes taking care of your skin fun.
How to Use:
After cleansing, gently smooth polisher over the face, avoiding the mouth and eyes areas.
Lightly massage using small circular motions and rinse thoroughly with cold or lukewarm water.
Pricing: $55 for 75ml
Where to Find: Sephora
---
10. Skin Inc Pure Revival Peel
Description: Containing high performance ingredients, this revolutionary and multi-action product renews and restores youthful vitality to your skin. Suitable for oily and acne prone skin, this gentle but powerful peel detoxes skin cells, prolongs cell life, strengthens skin collagen and elastin, and repairs UV damage. The Pure Revival Peel also acts like a super-dynamic primer, revealing skin that makeup can glide on perfectly.
How to Use:
Use dry hands to apply a thin layer of Pure Revival Peel to clean, dry skin skin.
Leave on for a few seconds until it turns milky, then gently massage in circular motion.
Dead keratin will be formed into particles, showing the exfoliating effect.
Rinse off with warm water.
Pricing: $76 for 60ml
Where to Find: Sephora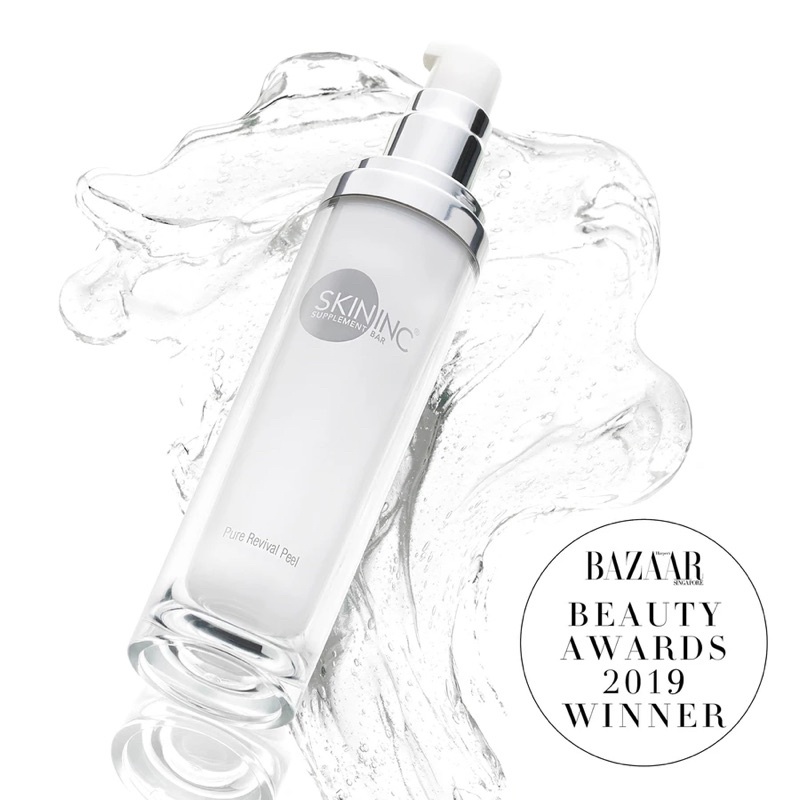 ---
Have a Product to Recommend?
Your contribution is valuable to us! Are there any outstanding brands that you believe should be added to our list? If so, please send your recommendations to us at admin@tropika.club. Tropika Club will review your suggestions and update the list accordingly. Thank you for your help in making our list as comprehensive and accurate as possible.
---
Meanwhile, Check Out Tropika Club's Ecosystem of Websites
Tropika Club Magazine – Tropika Club Magazine is a Singapore-based publication that features articles on a wide range of topics with a focus on local businesses and content for the region. The magazine emphasizes supporting local businesses through its #SupportLocal initiative, which includes coverage of everything from neighborhood hawker stalls to aesthetic clinics in town. In addition to highlighting local businesses, Tropika Club Magazine also covers a variety of local content, including beauty, lifestyle, places, eats, and what's on in Singapore and the Asia Pacific region.
Tropika Club Deals – Tropika Club Deals is a leading online deals and voucher shopping site in Singapore, offering amazing discounts on beauty, wellness, and fitness products and services. It's the perfect platform for customers who want to discover the best deals without having to commit to a specific appointment date and time. These deals are available at major beauty stores, facial salons, hair salons, and other brands in Singapore, with no minimum spend required. Choose from guaranteed discounted deals in the categories of hairstyling, hair removal, facial & aesthetics, body slimming, brows & lashes, nails & makeup, massage & spa or fitness & wellness. Tropika Club Deals is also ideal for customers who want to buy vouchers as gifts or to use for the future. So whether you're looking to save money on your next haircut or want to treat yourself to a relaxing massage, Tropika Club Deals has got you covered with the best voucher and coupon deals in Singapore!