Top Anti-Ageing Facial Salons in Western Singapore
You Can Look Younger by a Few Years with Their Anti-Ageing Facials
An anti-ageing facial is a type of facial that focuses on improving the elasticity in your skin to reduce the signs of ageing. Many people in their 20s and 30s turn to anti-ageing facials as a preventative measure. An anti-ageing facial will have all the steps of a basic facial, but with ingredients that are targeted to ageing or "mature" skin, which is usually age 40 and up. But you can have anti-ageing facials even when you're in your late twenties or early thirties because the skin is already showing signs of maturity. Tropika Club discovers the following establishments in Western Singapore (think Jurong, Boon Lay, Clementi) that will help you shave off a few years in your complexion. Check out the top anti ageing facials in Singapore.
---
---
#1 Pisces Wellness
Introduction: Born out of a genuine passion to deliver trustworthy wellness treatments. PISCES Wellness uses a holistic approach to enable their patrons to achieve their ideal figure. Designed for the modern day city dweller, their suite of wellness treatments aim to relieve stress and relax the mind. With facial, massages, hair removal services, and effective slimming therapies, their calming environment is your sanctuary from the everyday hustle.
The Treatment: Looking good is effortless with their range of aesthetic treatments. Rediscover yourself and reclaim your confidence- magic is simple. Try their Deep Cleansing Facial Treatment, which improves skin's texture and boost radiance.
Check them out at:
---
#2 Wellaholic (Jurong East)
Introduction: Wellaholic's vision is to help their customers look their best with the best rates in Singapore. We offer a range of aesthetic services, including technology facials, microneedling, permanent hair removal, fat freeze, RF body sculpting and teeth whitening. ​Wellaholic has six outlets, at Tai Seng HQ, as well as at Jurong East, Orchard, Clarke Quay, Tg Pagar and Lavender. They believe in offering quality services to their customers, with excellent customer service and definitely no hard-selling.
The Treatment: WellaFacial™ incorporates the best-of-breed technology facial treatments at an affordable monthly pricing. With weekly treatments of 6-step Elight Facial Collagen Boost, together with weekly-alternating Microneedling and Radio Frequency V-Lift treatments, you will see a drastic improvement in the reduction of wrinkles, fine lines and achieve a clearer complexion. Unlike typical facial treatments in Singapore which involves steaming the face, and manual extraction of blackheads, etc., Wellaholic advocates the use of technology and scientifically proven methods to help their customers in Singapore with their anti-ageing facial regime. The result – visible differences over the course of a three-to-six month period.
Check them out at:
---
---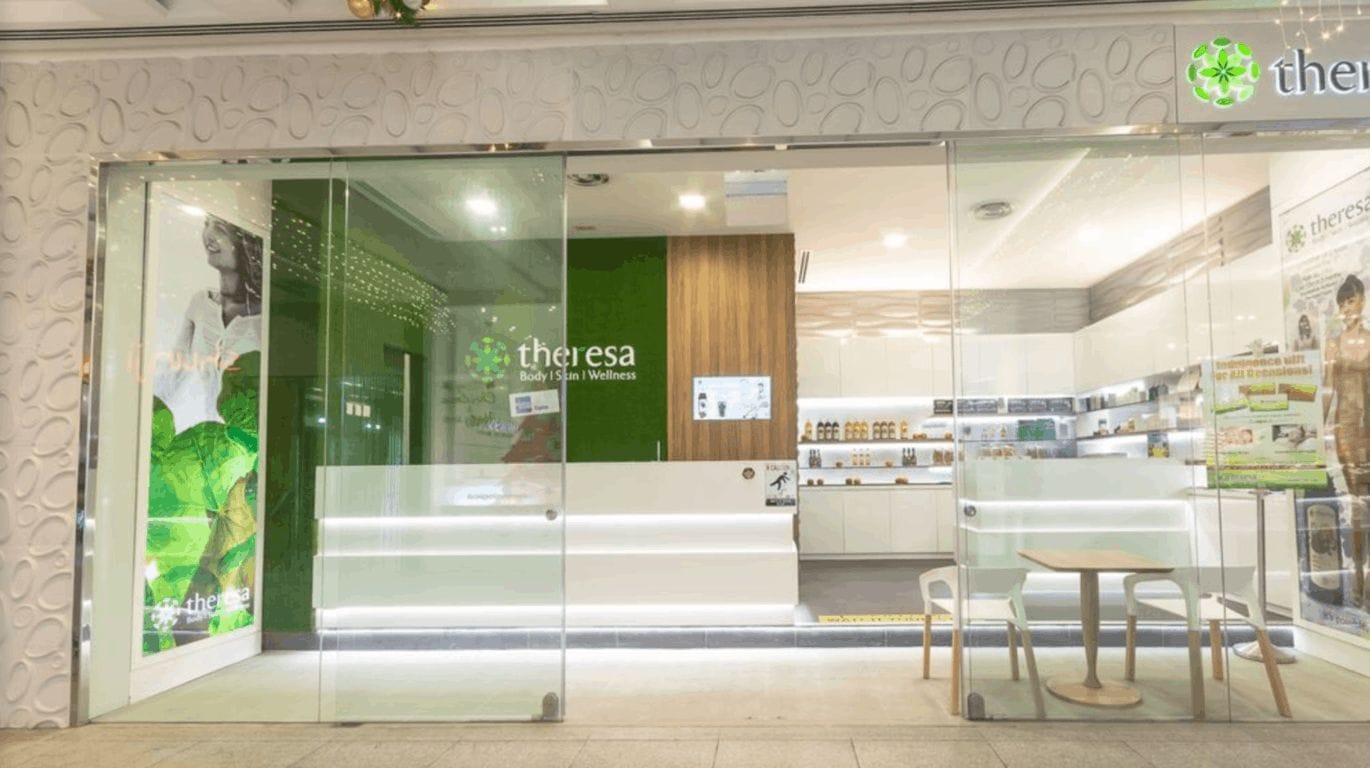 #3 Theresa Body Skin Wellness (Jurong East)
Introduction: Established in 1987, Theresa Beauty started out in Ang Mo Kio with its first outlet and expanded to other outlets islandwide. Theresa Body Skin Wellness started out with humble beginnings and through their team of experienced aestheticians, we have established the brand as a household name with the support of their loyal customers and team members.
The Treatment: SygmaLIFT HIFU is the latest HIFU (High-Intensity Focused Ultrasound) technology designed to enhance non-surgical face lifts. The face-lift transformation process is pain-free, injection-free & surgical-free. There's also the Skin Booster. Popularly known as 水光针, this treatment is the most requested in all of Korea's aesthetic clinics as it's the break through innovation from Asia that instantly quenches & hydrates skin. Skin booster will replenish the nutrients that their quenching skin loses over time due to ageing.
Check them out at:
Location: Blk 130 Jurong Gateway Road, #01-217 Singapore 600130
Hotline: +65 6565 8887
Website: https://theresa.com.sg
---
#4 Avone Beauty Secrets (JEM)
Introduction: Avone Beauty Secrets – Avone Beauty Secrets (ABS) is the only Beauty and Embroidery Faceworks Chain in Singapore to receive recognition from the prestigious International Beauty And Health General Union of Korea. They have been recognised for their revolutionary Embroidery Techniques which are the results of an extensive research together with the International Semi-Permanent Association in Korea. Each unique embroidery technique uses different (Korean Manufactured) specialised embroidery needle blades specifically designed to enhance the delivered techniques giving amazing results. The ever-popular ABS 6V Korean Virtual Brows Embroidery has won the hearts of the Beauty editors, judges and readers.
The Treatment: Try Avone's Korean Nano-Tech BB Radiance Treatment. A revolutionary aesthetics facial treatment that helps to brightens dull skin complexion instantly, smoothen uneven skin texture, minimises enlarged pores, reduces the appearance of lines & wrinkles and helps boost hydration for supple and dewy looking skin.
Check them out at:
Location: 50 Jurong Gateway Road, #03-42, Singapore 608549
Hotline: +65 6734 7311
Website: https://www.avone.sg
---
#5 Skin Lab 360
Introduction: Skin Lab 360 is located at Bukit Timah Plaza and offer state of the art beauty treatments, facials and rejuvenating skin treatments.
The Treatment: Skin Revive provides the 100 minute Neck Treatment. Get your skin refreshed with a signature meridian Bo Jin facial by Skin Revive which is known for the focus it places on meridian points to improve circulation, nourish skin tissues, reduce signs of ageing, and more. Included in this package is a choice of eye or neck treatment which keeps you pampered throughout this session.​
Check them out at:
---
Have a Place to Recommend?
Your contribution is valuable to us! Are there any outstanding businesses that you believe should be added to our list? If so, please send your recommendations to us at admin@tropika.club. Tropika Club will review your suggestions and update the list accordingly. Thank you for your help in making our list of businesses as comprehensive and accurate as possible.
---
Meanwhile, Check Out Tropika Club's Ecosystem of Websites
Tropika Club Magazine – Tropika Club Magazine is a Singapore-based publication that features articles on a wide range of topics with a focus on local businesses and content for the region. The magazine emphasizes supporting local businesses through its #SupportLocal initiative, which includes coverage of everything from neighborhood hawker stalls to aesthetic clinics in town. In addition to highlighting local businesses, Tropika Club Magazine also covers a variety of local content, including beauty, lifestyle, places, eats, and what's on in Singapore and the Asia Pacific region.
Tropika Club Deals – Tropika Club Deals is a leading online deals and voucher shopping site in Singapore, offering amazing discounts on beauty, wellness, and fitness products and services. It's the perfect platform for customers who want to discover the best deals without having to commit to a specific appointment date and time. These deals are available at major beauty stores, facial salons, hair salons, and other brands in Singapore, with no minimum spend required. Choose from guaranteed discounted deals in the categories of hairstyling, hair removal, facial & aesthetics, body slimming, brows & lashes, nails & makeup, massage & spa or fitness & wellness. Tropika Club Deals is also ideal for customers who want to buy vouchers as gifts or to use for the future. So whether you're looking to save money on your next haircut or want to treat yourself to a relaxing massage, Tropika Club Deals has got you covered with the best voucher and coupon deals in Singapore!